With the holiday season in full swing, the Green Team decided to have a potluck lunch at work on Monday, December 19th! President, Steve Frenkiel has continued the fundraising tradition!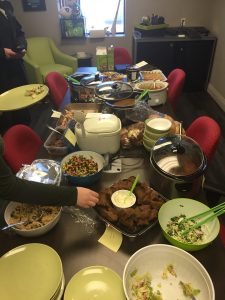 The Green Team was challenged to make their most enticing dish, where each member would vote for their favourite dish. The first, second, and third place winners were given $150, $100, and $50 respectively, to donate to the charity of their choice.
The potluck was once again, a delicious success! With Pulled Pork Sandwiches and Chilli to Apple Crumble and Candy Crack, the competition was high!




1st place
went to Michael Cornack with his playful' jalapeno poppers, double breaded and stuffed with a cheese medley and bacon bits! 
2nd place
went to Tony Hunter with his 12-hour sultry smoked turkey! 
3rd place
went to James Cook who proved he could with his jazzy jerk chicken and rice!
An honourable mention goes to Ashley Bucar with her fiesta filled black bean, corn, and cilantro salad, placing a close 4th.

As Michael Cornack is donates monthly to the
Sick Kids Foundation
, he has chosen to donate his winnings to the
McMaster Children's Hospital
. We were able to get a statement from Cornack: "I would like to thank the voters, the farmers for their hard work, and the grocery stores for their support. I hope that my donation inspires others this holiday season to donate to a charity that is close to their heart!"
At the beginning of December, Tony Hunter, 2nd place winner, and his family had decided that they wanted to fund raise for
Toys for Tots
this year! Tony & James have pooled their winnings to add to the Toys for Tots fund. Tony has requested that if anyone wishes to contribute, they are able to email him at
thunter@dynamicconnections.com
. He will be accepting donations until
Saturday, December 24th.




The Dynamic Connections' Green team thanks their customers and partners for their continued support over the past year and who has allowed them to make these types of fundraisers possible. We not only want to Make A Difference for our customers' business, but for the lives of others!
Wishing you a Merry Christmas & Happy New Year!